Verfasst 7. June 2023 in News
Conti® Synchrochain Supreme: The new power belt for drives in ATEX areas
The most recent Conti® PU timing belt is now available at WHM: The Conti® Synchrochain Supreme with a CTD profile combines the extremely high resilience of the tried-and-tested Synchrochain Carbon heavy-duty timing belt with antistatic properties. That means this PU timing belt is suitable for drives with extreme acceleration forces and the safe transfer of high torques at low rotation speeds – now even in flammable, explosive or electrostatically sensitive environments.
Antistatic properties without compromises – for the entire product life.
The new Conti® Synchrochain Supreme exceeds the requirements of the common standard ISO 9563, in that it does not just provide electrical conductivity when delivered, but maintains this property throughout its entire period of use.
One belt – countless applications
Whether it is used in oil refineries, for geothermal power generation, in grain elevators, treatment plants, saw mills, air-cooled heat exchangers, in mining, chemical processing or in systems for energy recovery: The Conti® Synchrochain Supreme is highly reliable, even in extreme conditions, and is also suitable as a replacement for chain drives.
All information about the Conti® Synchrochain Supreme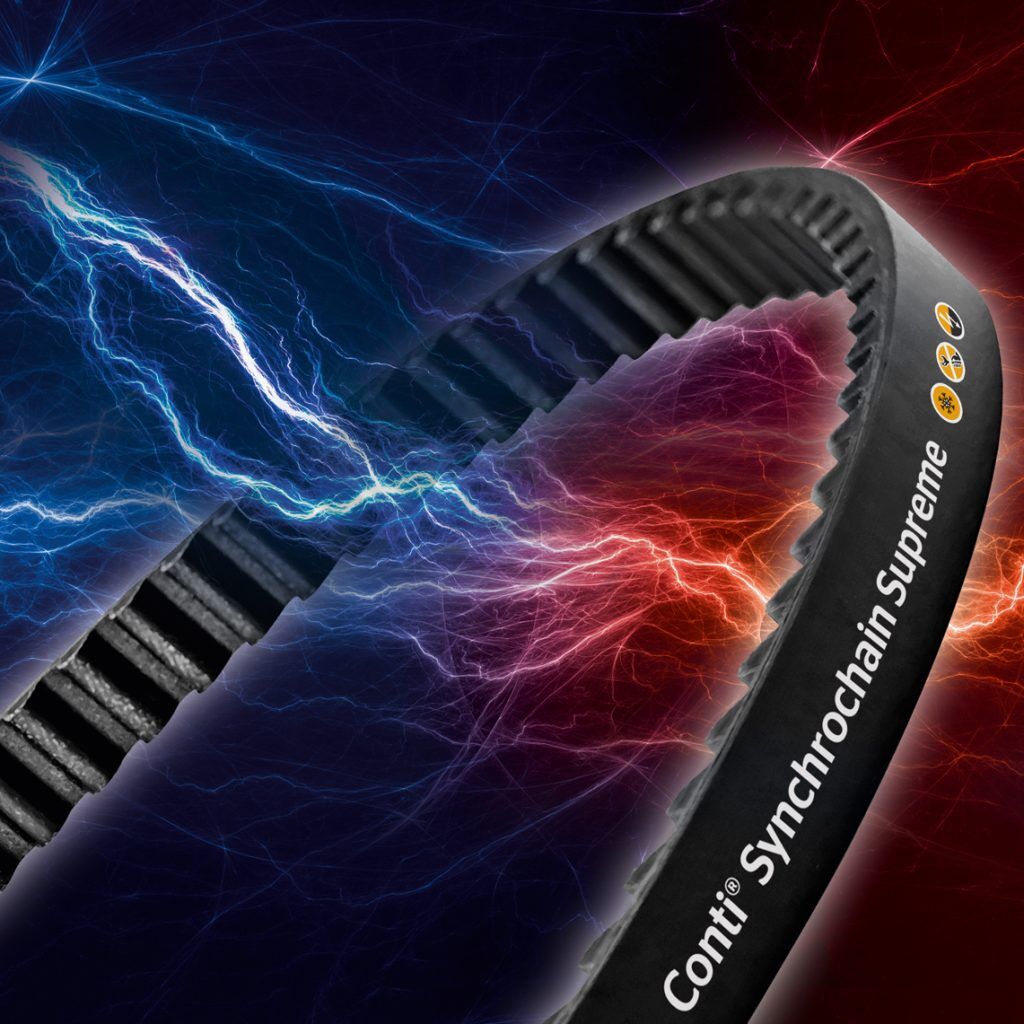 Function / Properties
Antistatic properties according to ISO 9563
PU material oil-resistant according to DIN 53428 (reference oil: IRM 903)
PU material ozone-resistant according to ISO 1431
PU material light-resistant according to DIN EN ISO 4892
Temperature-resistant depending on application from -55 °C to +80 °C
Suitable for contraflexure / back tension rollers
Carbon tension cord, CTD profile and wear-resistant anti-static fabric for maximum power transfer
Suitable as replacement for chain drives
Low-noise operation
Maintenance-free
Technical product design
Tooth surface: Antistatic fabric
Teeth: Polyurethane
Tension cord: Carbon
Belt back: Polyurethane
Available dimensions
Profile CTD 14M: Belt lengths 994 mm – approx. 5,502 mm, widths: 20 – 125 mm
Profile CTD 8M: Belt lengths 720 – 4,480 mm/width 12 – 62 mm
In-between lengths and widths on request. We would be glad to help you with the design, planning and implementation of your PU timing belt drive.
Your personal contact:
Frank Seifer
Phone +49 5131 4522-187
E-Mail: seifer@whm.net

Garbsen 07 June 2023
Wilhelm Herm. Müller GmbH & Co. KG