Verfasst 13. May 2022 in News
BRECOprotect® – Polyurethane timing belts for the maintenance of wind power plants
Wind power is an increasingly important energy source in Germany. Already there are around 30,000 wind power plants requiring regular maintenance. Above all, the rotor blades are affected by erosion, lightning strikes and cracks caused by high fluctuating loads. To date, cable systems and open work platforms remain the method of choice for plant maintenance. However, as these are affected by the weather, they can only be used on 60 to max. 100 days a year in Germany.
New system doubles number of possible repairs
The Brandenburg-based company for the maintenance and disassembly of wind power plants WP Systems from the Ruhland municipality has developed the mobile maintenance system "System terra 1.1". This system makes it possible to more than double the number of repairs per year.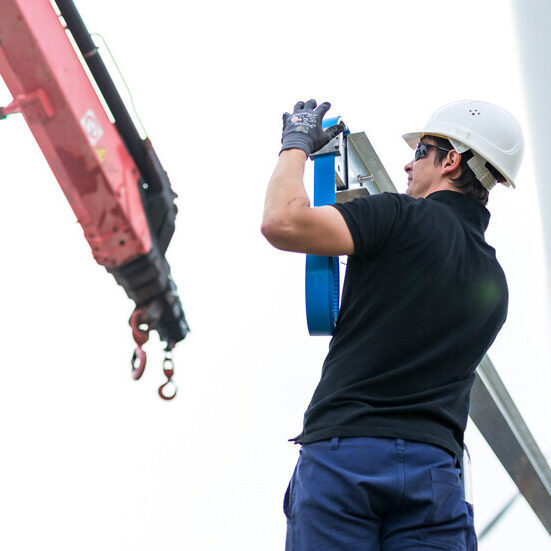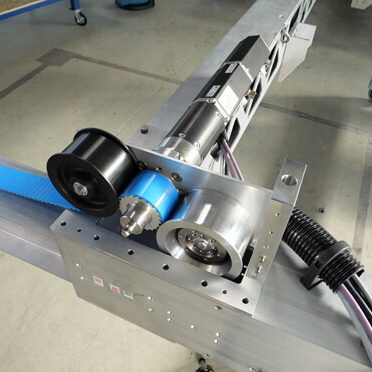 Left: The tandem axis trailer with the service platform System terra 1.1 of WP System in Sweden
Middle: The timing belt is easy to roll up and unroll and install in next to no time with a click-in system
Right: The omega drive of the access system withstands damp environments – also thanks to the BRECOprotect® timing belt
Working in a closed cabin – with light and power
The system's special feature: Its light-weight design with a weight of less than 2 t makes it easy to transport from one site to the next on a tandem axle trailer. Moreover, the reduction in weight is essential for the winches, as these can only transport limited weight. System terra 1.1 is a kind of closed "cabin" that encloses the rotor blade of a wind turbine and moves along it. The cabin contains everything required for repairs, including light and power for infra-red lamps used to heat up the repair areas on cold days. This makes it possible to work in adverse weather conditions and even in darkness.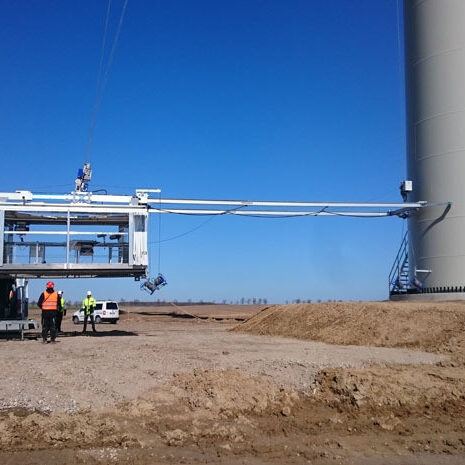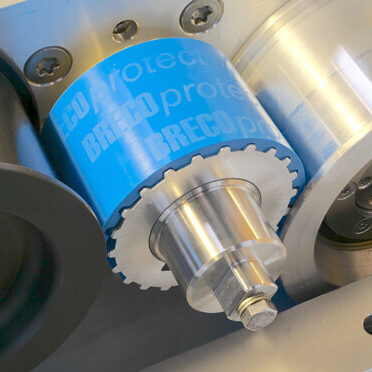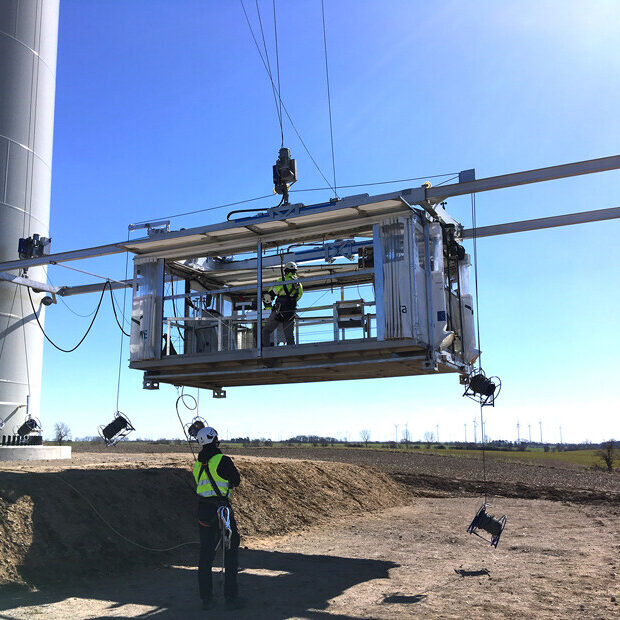 Left/Right: System terra 1.1 at work
Middle: The BRECOprotect® timing belt drive does not require any pre-tensioning here
Great demands require great solutions: The BRECOprotect® timing belt
PU belt drives using BRECOprotect® timing belts are used to support and rotate the work cabin. Their advantage: Their weight is much lower than, for instance, that of a rack-and-pinion drive, but thanks to their steel tension members they can carry enormous loads. Due to a special production method, the tension members of BRECOprotect® timing belts are completely enclosed in weather-resistant PU to prevent corrosion.
The timing belt technology for the maintenance system was developed by Wilhelm Herm. Müller GmbH & Co. KG (WHM) based in the northern German town of Garbsen. But that's not all: WHM application consultant Dipl.-Ing. André Schmidt came up with the idea of using an engineering "trick" to minimise the system weight. No pre-tension is required because the timing belts are designed as omega drives. Otherwise structural mechanics would have made it impossible to use the light-weight telescopic frame design made of aluminium.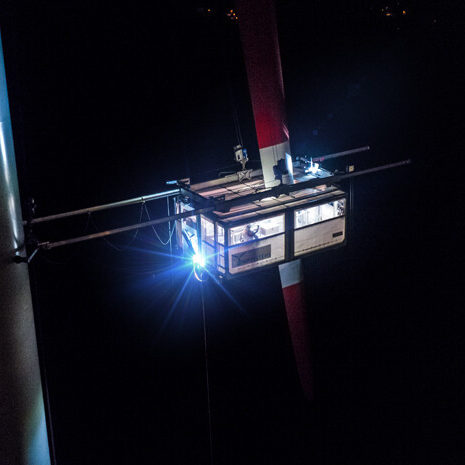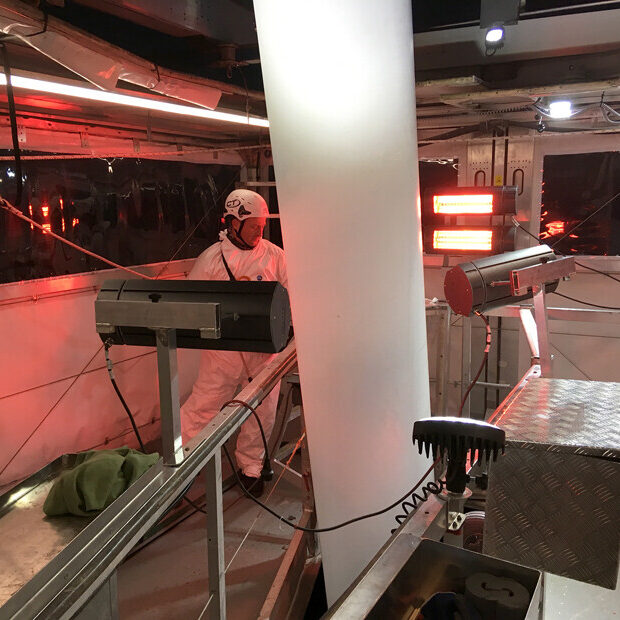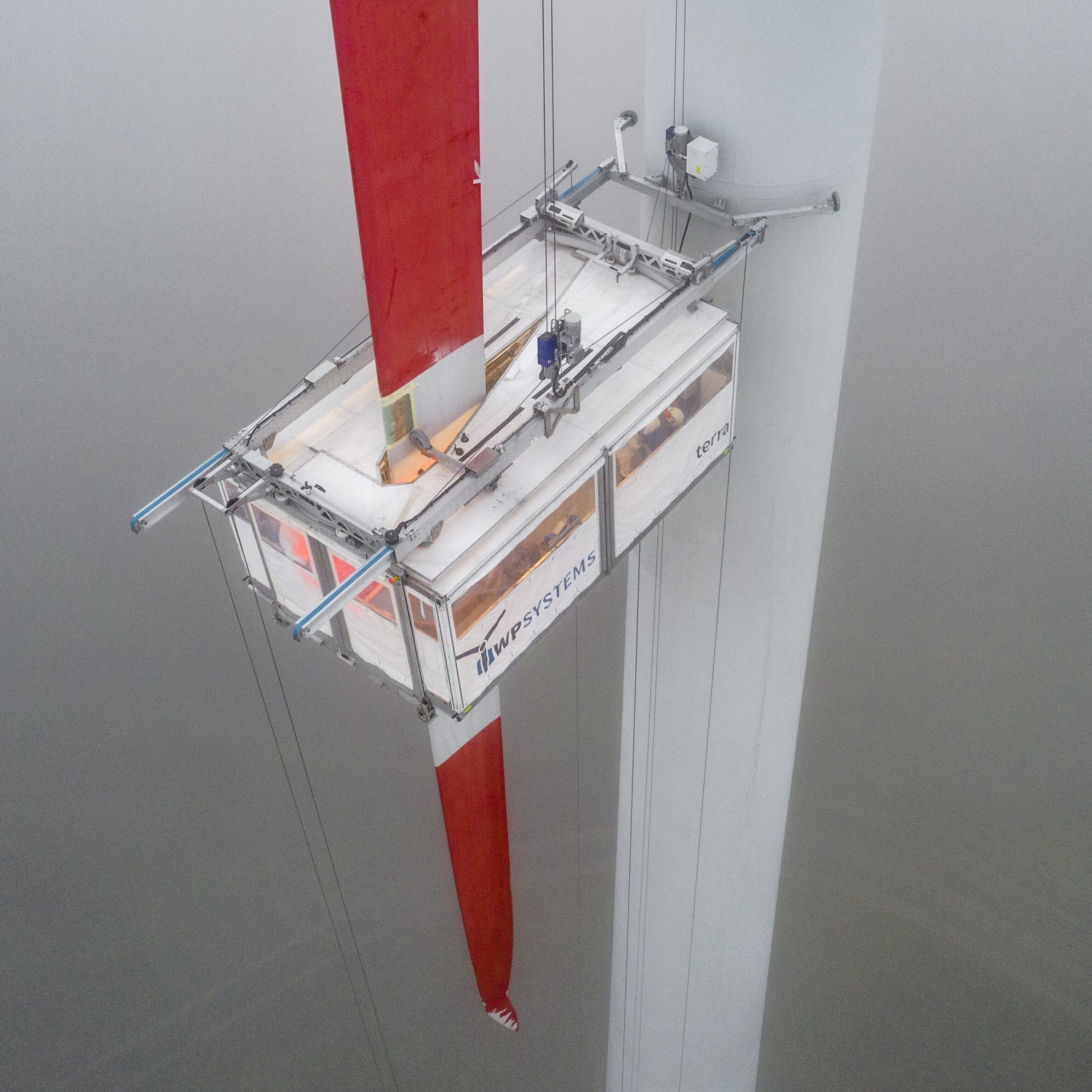 Left/Right: With system terra 1.1, work can be carried out even at night or in foggy conditions
Middle: Infrared radiators heat the inside of the cabin so that work can be done on the rotor blade with polyester resin, among other things, even in cold weather
The System terra 1.1 now makes it possible to perform maintenance work on approximately 200 days of the year, meaning double the number of maintenance days with the same number of staff.
Advantages of the BRECOprotect® timing belt:
extreme tensile force thanks to steel tension member
no coiling noses, decreasing soiling and preventing corrosion of the steel tension members
polyurethane resistant to any weather condition
Your personal contact:
Frank Seifer
Phone +49 5131 4522-187
E-Mail: seifer@whm.net
Garbsen 13 May 2022
Wilhelm Herm. Müller GmbH & Co. KG
This application was also reported on in mulco innovativ issue 19. For this article, all technical contents have been checked again and updated. With the kind support of WP Systems and Mulco-Europe EWIV. Photos: WP Systems, Mulco-Europe EWIV.